It only took a few seasons for Ludovic de Saint Sernin to turn into one of Paris' hottest brands, quite an achievement for someone still in his late 20s. De Saint Sernin's vision is strong, subversive, humorous and uncompromising. His last show gathered industry insiders who clearly showed their support, such as Rick Owens, Balmain's Olivier Rousteing and Willy Vanderperre who shot the designer's last campaign.
Ludovic de Saint Sernin's work is about intimacy, gender -and above all skin- a dismantling of our society's archetypes to propose a new and sensitive approach towards men and women alike. If the French designer sees beauty in fragility, he's also challenging the social norms of conformity and suffocating standardization. His incredibly sensual show underlined a Kunderian lightness of being, which was evidenced by his choice of tactile materials, such as breezy taffeta, silk satin or sheer organza.
De Sernin took on certain codes to reformulate them his way, such as military-inspired styles for instance. A belted nude colored trench was worn as an outfit against bare skin, with a pair of matching leather sandals and nothing else. Reworked cargo pants were tight on the hips and flared at the bottom, hugging every possible curve. He even paired one of those with a nude, asymmetrical bandage top, a nod to the early 1990s. Other references to that era were also clear, from Alexander McQueen's infamous 'bumsters' to Helmut Lang's exposed nipple tops, but de Saint Sernin offered the ultra low waist pants covered with Swarovski crystals and reworked the classic polo shirt with an erotic cutout.
He also presented his own version of sleek tailoring, focusing on body-conscious suits, which featured no pockets and concealed buttons. Avoiding unnecessary details to underline sharply cut lines is one of the designer's signatures, borrowing from the sexiness of womenswear to avoid traditional men's finishes. When a model came out wearing a simple towel wrapped around his waist, it offered an instant breather to a delighted audience. In a fashion landscape filled with logos, celebrity lines and trying way too hard clothes, de Saint Sernin's reductionist and intelligent approach could be the way forward.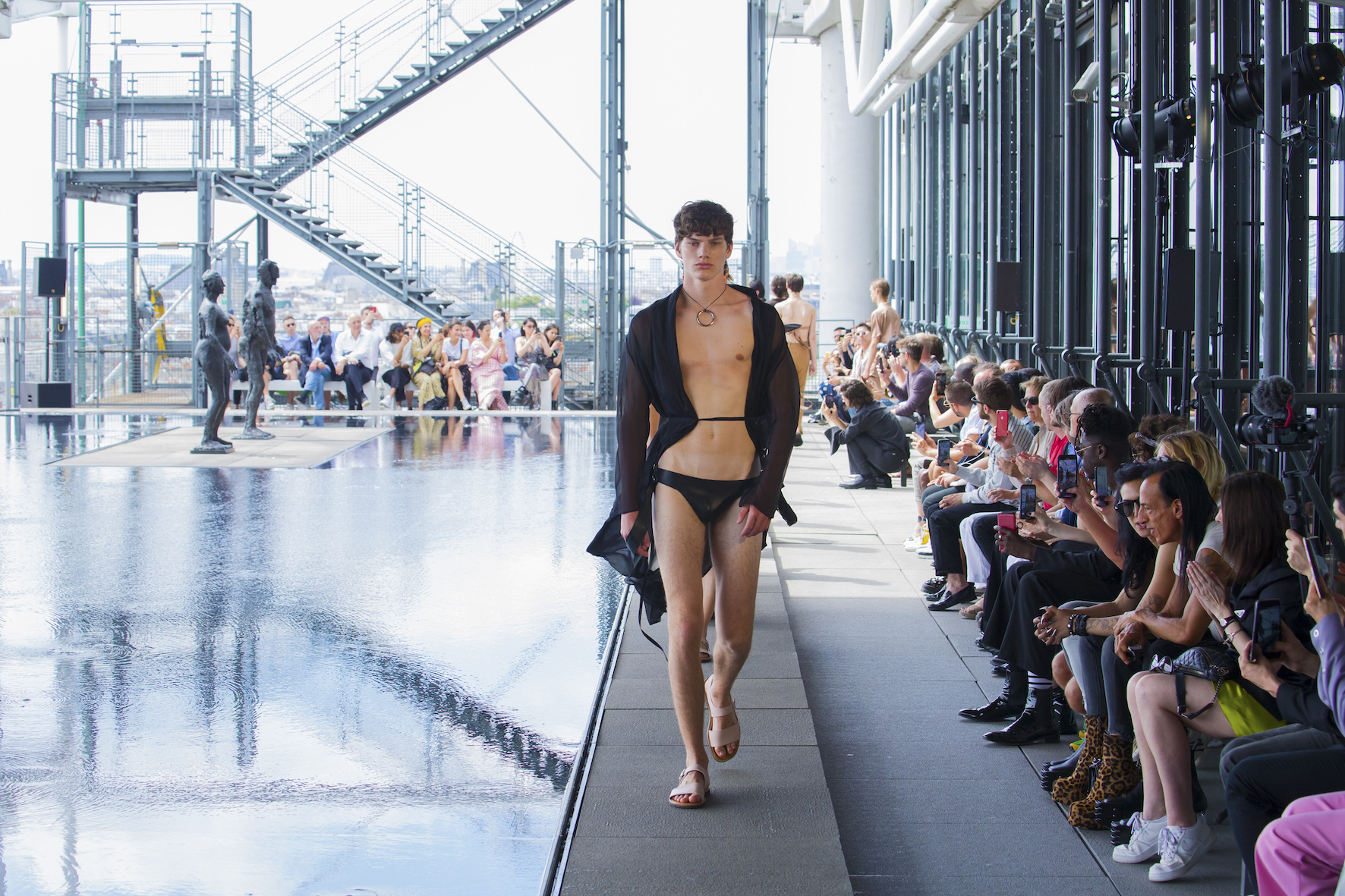 …
/ Words by Philippe Pourhashemi /
/ Runway pictures by Luca Tombolini /